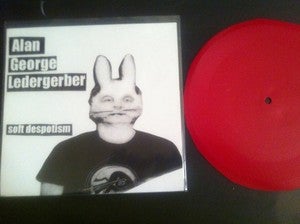 $

5.99 - On Sale

The first new release from Alan George Ledergerber in over two years! An oddly calming track of lo-fi synth composition on a lo-fi format. This song was expertly cut into a plastic picnic plate by Mike from lathe-cuts.com. Includes a digital download for all the kids. Limited to 50 copies.
Listen:
http://soundcloud.com/alan-george-ledergerber/soft-despotism
Postage paid in the US (outside the US, add $2). Email for a shipping quote on multiple items.